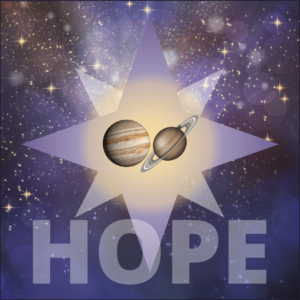 December 20, 2020
Jupiter-Saturn Conjunction 2020
Grrr Scorpio!
New hope finds its home in an initiative to establish a firmer foundation beneath your feet by focusing on your domestic life.
You've been particularly well suited for the pandemic because Scorpios typically know how to survive the really tough times and you can be as introverted as you need to be until it's safe enough to come out.
Of course, like the rest of us, it's driven you into yourself deeper than ever before. Going forward for the next 20 years, your Jupiter-Saturn assignment is to remember to remember yourself apart from all the other inputs in your life and continue to develop that space to better serve your needs. Who are you when you're all alone? The answer should be grounding.
If you live alone, you may have new ideas for reformulating your space; if you live with at least one other, you're learning the subtle interpersonal political lessons of sharing the space under such oppressive conditions.
Regardless of the superficial reflections of the influence, it's a form of independence you are cultivating here that can only help to keep your head clear. Cherish and savor new intimacy with self.
#KeepLookingUp!
❤️MB
P.S. The above is a general interpretation for your sign. To understand how the Jupiter-Saturn conjunction and its aftermath more specifically are playing out in your personal horoscope, book a special Star of Hope reading at a special price ($138 CDN) by contacting me.