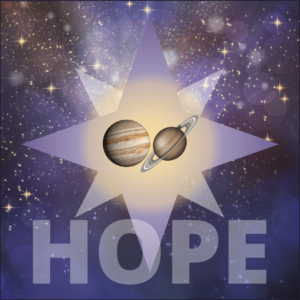 December 20, 2020
Jupiter-Saturn Conjunction 2020
Grrr Leo!
New hope finds its home in developing your partnerships and becoming better at partnering. This time could also see the arrival of an important teacher or mentor in your life.
You are a very bright light that can usually command a stage when called on to perform (even if the sign is typically much more introverted its reputation in the astrological literature). But now you have to do it with someone else in mind.
It's like learning to harmonize: the right two distinct notes need to be sounded by the parties involved at the same time to produce the music.
It's also about you learning to tap into your inner well of heart-centered generosity to be a member of the audience when required and give the other party your undivided attention. This isn't all about you. In fact, it's all about one plus one equaling two. When you encounter resistance from others, it's time for self-examination to identify your part in the dispute.
#KeepLookingUp!
❤️MB
P.S. The above is a general interpretation for your sign. To understand how the Jupiter-Saturn conjunction and its aftermath more specifically are playing out in your personal horoscope, book a special Star of Hope reading at a special price ($138 CDN) by contacting me.