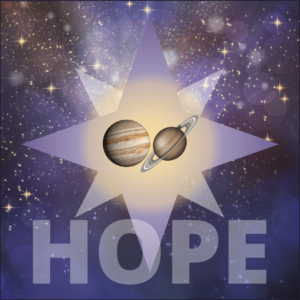 December 20, 2020
Jupiter-Saturn Conjunction 2020
Grrr Aries!
New hope finds its home in a new commitment to stay connected to your friends and colleagues.
On a mundane level, this could be as simple as developing and utilizing your contacts list in a new way.
It's been difficult to stay in touch with others given the restrictions of lockdowns social distancing. All the more reason to to reach out through the technology available to the people of like mind whom you really relate to.
Tune into their buzz, ask them about how they're staying connected and maybe what they're doing to network given groups can't interact the same way. You need to participate! You might even have an idea for a group of your own that you'd like to lead.
Nobody you know like this? Maybe your real friends are the authors who have left their knowledge behind to inspire your mind. Find ideas you can be enthusiastic about is the deepest level Jupiter-Saturn can offer and ideal for your legendary pioneering spirit that loves plowing new ground.
#KeepLookingUp!
❤️MB
P.S. The above is a general interpretation for your sign. To understand how the Jupiter-Saturn conjunction and its aftermath more specifically are playing out in your personal horoscope, book a special Star of Hope reading at a special price ($138 CDN) by contacting me.