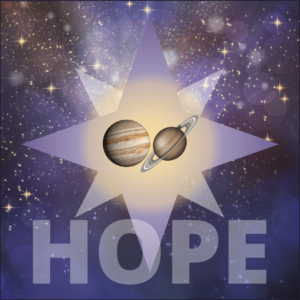 December 20, 2020
Jupiter-Saturn Conjunction 2020
Grrr Aquarius!
New hope finds its home in a new commitment for birthing new self-focused initiatives.
This could be as mundane as assuming a new role, or even an old one, but the deeper question is more about the impression you want to make and the inner qualities required to make it so. New development is most importantly self-development.
Let your principles be your guide. In many ways, they're your superpower. They can help you bridge that inner divide between wanting to be part of the larger group and yet not compromising on being true to your unique and distinct self with any new qualities seeking new expression.
Patience is a Jupiter-Saturn keyword that's good for any Aquarians in a hurry to remember. This conjunction calls you not only to be or become an authority, but also to learn from and accept the authority of others over the next 20 years. It's truly a profound opportunity.
#KeepLookingUp!
❤️MB
P.S. The above is a general interpretation for your sign. To understand how the Jupiter-Saturn conjunction and its aftermath more specifically are playing out in your personal horoscope, book a special Star of Hope reading at a special price ($138 CDN) by contacting me.