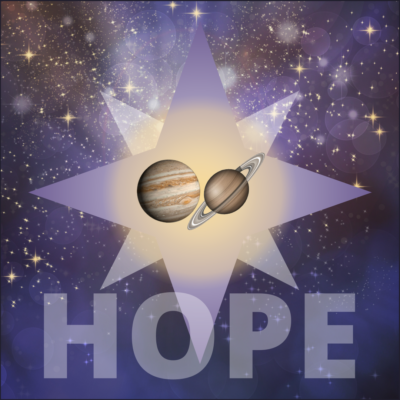 December 20, 2020
Jupiter-Saturn Conjunction 2020
It's already a tired cliché to describe 2020 as unprecedented. From an astrologer's perspective, most of what was on deck for 2020's starry skies were filled with some pretty grim celestial alignments.
But not this one.
Jupiter and Saturn conjoin in the tropical sign of Aquarius at 1:20:18 p.m. EST on Monday, December 21st. On that date, they appear close enough to almost be a single point of light. In the sky, they have been visibly drawing closer for months. It's true that astronomy provides a lot of fun facts about the conjunction. However, only the ancient discipline of astrology can illuminate what it means.
Happening in Aquarius, the sign associated with the sweet waters of reason and the passions of the mind, including science, this is the star of hope that we've all been waiting for. Its most obvious mundane reflection is the coming of the remarkably effective coronavirus vaccines and better treatment protocols for the disease. We may not be at the beginning of the end, but we can see we're at the end of the beginning. Armed with the right weapons, we can win this war and life can return to the whatever the resulting new-new normal turns out to be.
Roaring 20s revisited anyone?
Jupiter and Saturn conjoin roughly every 20 years in or around the "0" years. Thus, there was a conjunction in 2000 and the next one will be in 2040. Along with representing a generational socio-cultural political, economic, and cultural re-boot, these conjunctions represent a new 20 year pattern for new potential development within a given framework for every individual. This one asks us to think outside the usual boxes to contend with an emerging reality.
One example is much of the business world has learned it can run quite well virtually, pandemic or no pandemic. It seems unlikely that their new-new normal world will be the same as before. All meetings will be "virtual" going forward, even if you're in the office.
What has also readily become apparent is how such a catastrophe such as this more lethally impacts those with the most poverty. It highlights the unfortunate truth that 50 years of tax cuts for the rich have only made the rich richer. As the recovery unfolds, expect the voices calling for economic justice to grow louder.
To learn what the alignment suggests from the perspective of your sign, select its panel below.